UPN-WEB
Background
In going thru our CIS conversion, from Daffron to SEDC, I was realizing that we needed something a little easier than the full functioned UPN application for the users out in the field. Previously, our outside personnel and duty supervisors would simply launch the VPN, then use a 5250 app to access the green screen CIS system. This gave them the same access as they had from their desktop, at the office. The only way it seemed possible to run UPN in a mobile environment was to run it on their virtual desktop, from the iPad, using View. Although this is do-able, it is a little cumbersome with all the zooming and panning required due to the small toolbar buttons. We evaluated the Mobile Workforce program that was available, but did not feel it met our needs. So, I decided to see what I could do. The mobile users do not need all the functionality of UPN, they just need a streamlined version. These are the requirements they came up with:
View member data
View payment history
Ping the meter
Read the meter
See what other members are on the same transformer
View outage information
View service orders
View history comments from old CIS system (Daffron)
View Disconnect Collar information
View Load Management Switch information
View comments from old CIS system (Daffron)
This all has to be real-time
Solution
Here is what I came up with. You can see from the picture below, it is usable from a PC, MAC, iPhone or iPad. I am sure it would run on a Droid device too if it was connected via VPN into our netwiork, but we do not have any.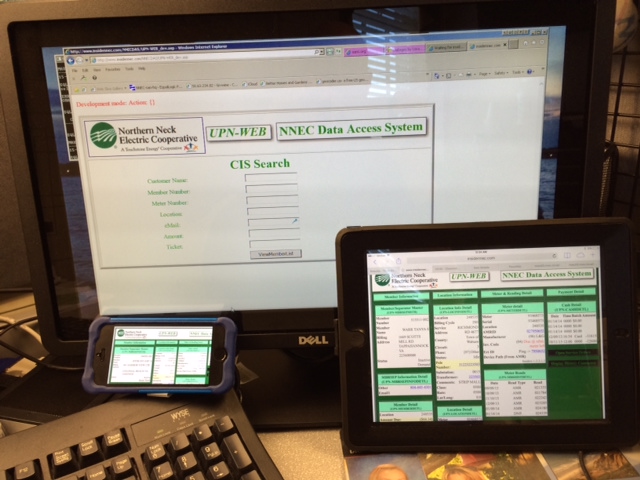 So, here is UPN-WEB.
This is accessed from the Intranet. Information can be queried by any of the following:
Member Name
Account Number
Meter Number
Map Location Number
eMail Address
Amount Owed
Collection Ticket Number
Service Order Number
Service Orders by Serviceman
Here is the search screen.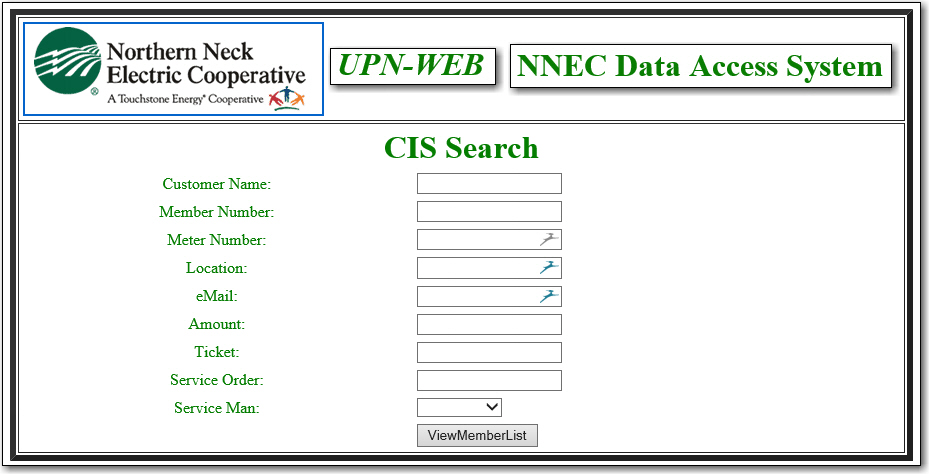 Any of the search results can be retrieved by clicking our touching the account.

This is member data displayed, in a simple, one screen layout. This screen is displayiong data pulled from the SEDC UPN, SEDC MDM, Milsoft OMS, Aclara TWACS system, and also dfrom teh Daffrom CIS system.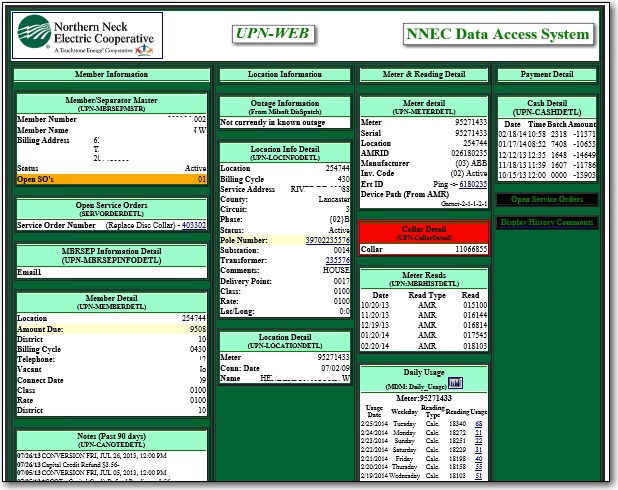 Service Orders
Note that there is an open service order on this account. You can view the service order information by clicking, or touching on the SO number.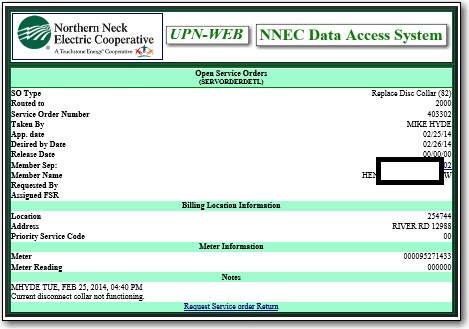 If someone wants to request that the SO be returned, they can click, or touch on "Request Service Order Return." The fields populated are dependent upon the type of service order. Some samples are shown below:
Replace Disconnect Collar: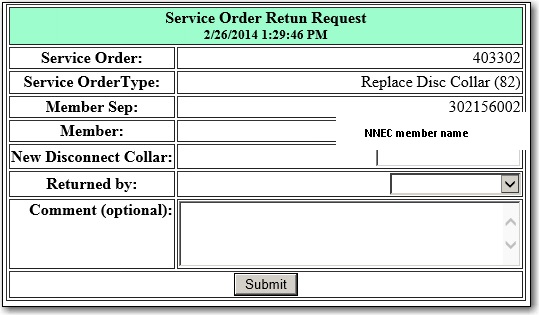 Meter change: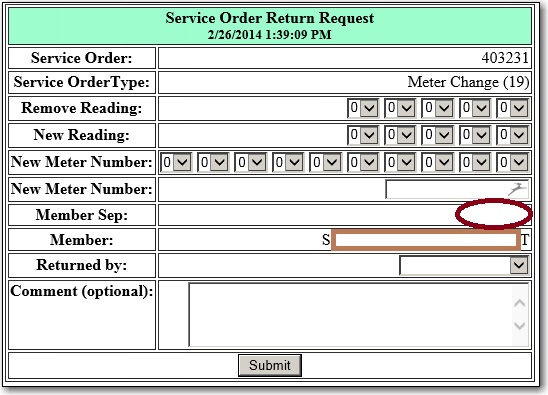 Once the user clicks or touches "Submit," a verification is displayed.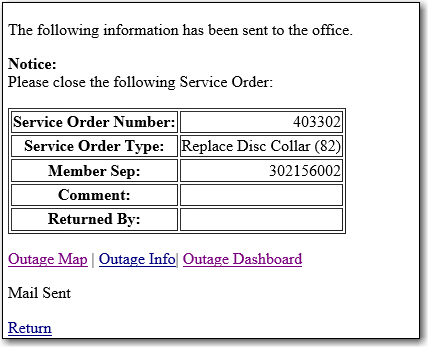 The CSR receives the email and can process the service order appropriately.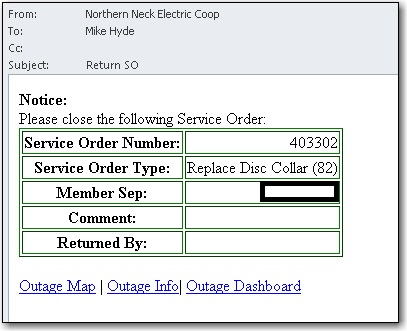 Daily Usages
Daily usages are shown.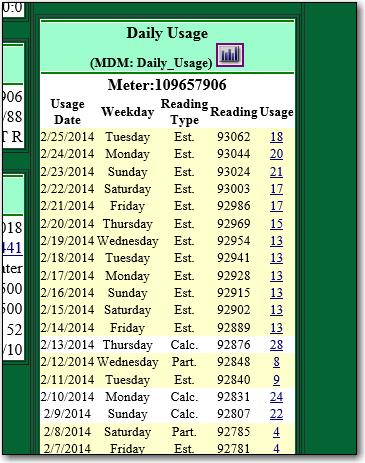 Clicking on the graph icon brings up a more detailed usage graph, that includes weather data, and checks for net metering. Net metering is not calculated correctly inthe current versionof our MDM.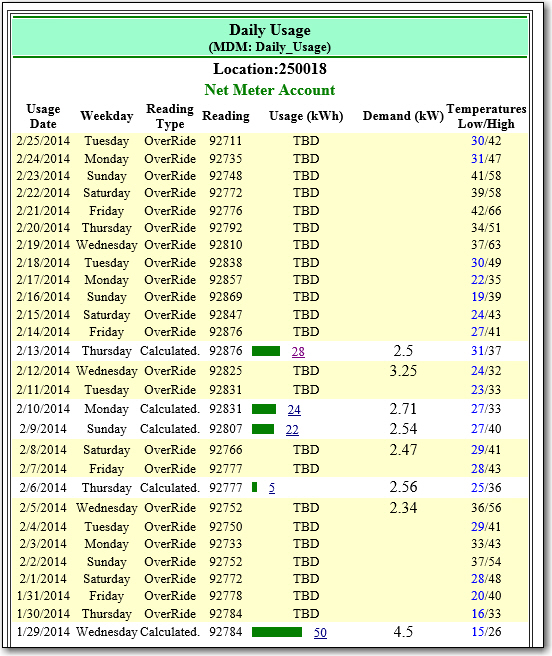 Outage check
UPN-Web will query the Milsoft OMS System (DisSpatch) to see if the member is in a know outage.

If the member is in a know outage, outage information, from DisSpatach would be displayed.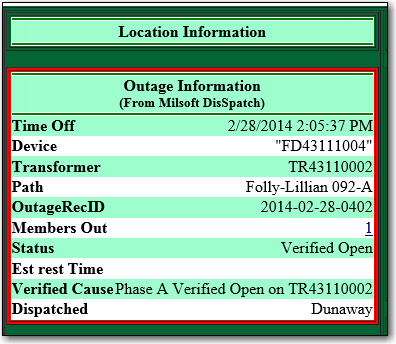 MANS
UPN-Web shows what MANS alerts the member has signed up for.

Meter Ping
Clicking or touching the Ert ID (TWACS module) will initiate a meter ping, in real time.

Pole Number
Clicking or touching the pole number will open our grid map. This has proven useful since we have just changed the structure of our pole number. Changing this pole number has made our vendors very happy, but our ServiceMen very unhappy.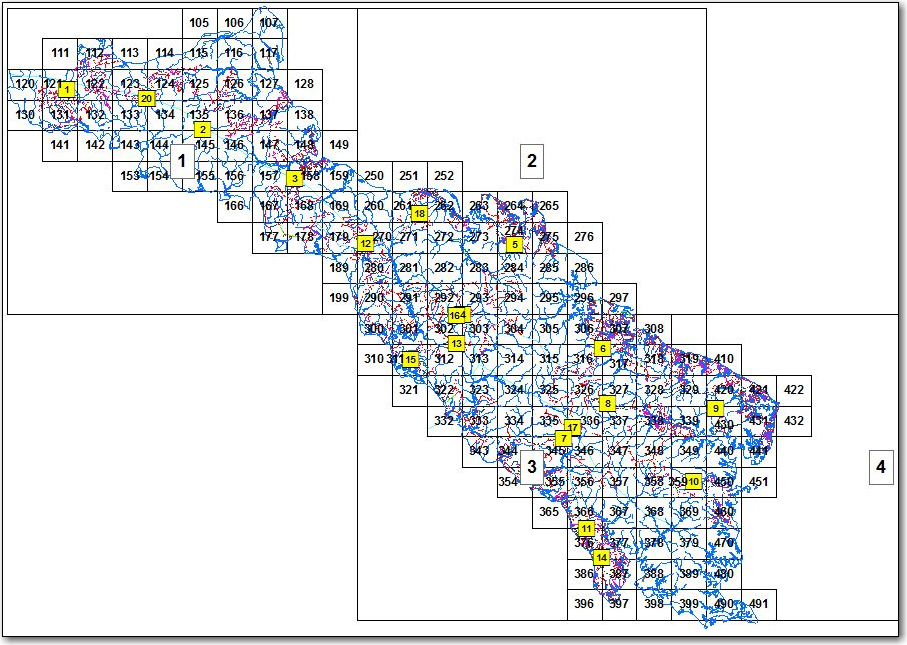 Transformer Number
Clicking or touching the transformer number will open a new page, showing transformer information, and other members onthat transformer.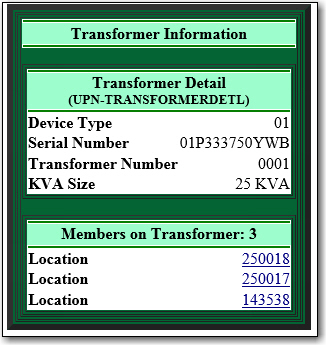 Load Management Switches
Any water heater or Air Conditioner load management switches are displayed. If they are TWACS devices, a link to ping them is displayed.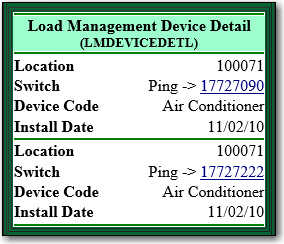 Recent Payments
Payments made on the current date, are highlighted. This helps when CSFR's are doing collections.