Annual Meeting Registration
Background
When I started at the Electric Coop back in 2004, I got to attend my first Annual Meeting. Being the IT Manager, I was responsible for the registration desk. Luckily, there were notes as to how this setup worked. I had to take 4 computers, monitors, keyboatrds, mice, power cables, a network switch, and a laser printer. As a backup, I had to print 2 copies of the member list on green bar paper. Needless, to say, this pretty much filled up the back of a pickkup truck, and took quite a bit to setup/teardown onsite. The next year, we switched to laptops, and that helped out a little, but the entire process seemd entirely too cumbersome.
iOS to the rescue
If you are reading this, you probably know how I feel about tablets, and specifically the iPad. I saw the iPad, and iPhone as a great tool to simplify this process. Yes, along with every other process, but that is a topic for another page.

I decided to create a web based system to process the registrations, using iPhones and iPads. We ordered some bluetooth scanners to facilitate scanning barcoded bills. In anticipation of this, I had our bill print vendor add the account & Sub-account number to our members bills. When the barcode scanners came, they appeared a little cumbersome, so we then found the "iCody" app, which uses the internal camera as a barcode scanner and inputs the scan into a web form. It is perfect!

This is our third year using the program, and we are pretty much at the conclusion it has been tweaked about all we can tweak it. We had planned for 4 operators, butthe registration process was moving too fast, so we have to shut down 2 stations after about 5 minutes. We registered almost 500 members in less than 30 minutes.
If you would like to be notified when I make changes to these pages, just let me know. Please email me, I am really interested in hearing what you have to say, both good and bad

Thanks,
2013
For 2013, we only made a few changes to the system.
Modified the registration screen fior the iPhone.
Changed the drop down selection list to radio buttons for the number of meal tickets.
Added 2 iPhones, so we had a total of 4 iPads, and 4 iPhones for the two tables. This actually worked too good because we were registering members too fast and the foofd line was backing up. We told the CSR's to slow down. After that did not help, we took away an iPad and iPhone from each table.
Setup was so easy, we only had to bring the following:
iPads (4)
iPhones (4)
Laptops (2)
Wireless Router (2)
UPS
Surge Protector
Stylus (4)
Here is a picture of one of the registration desks.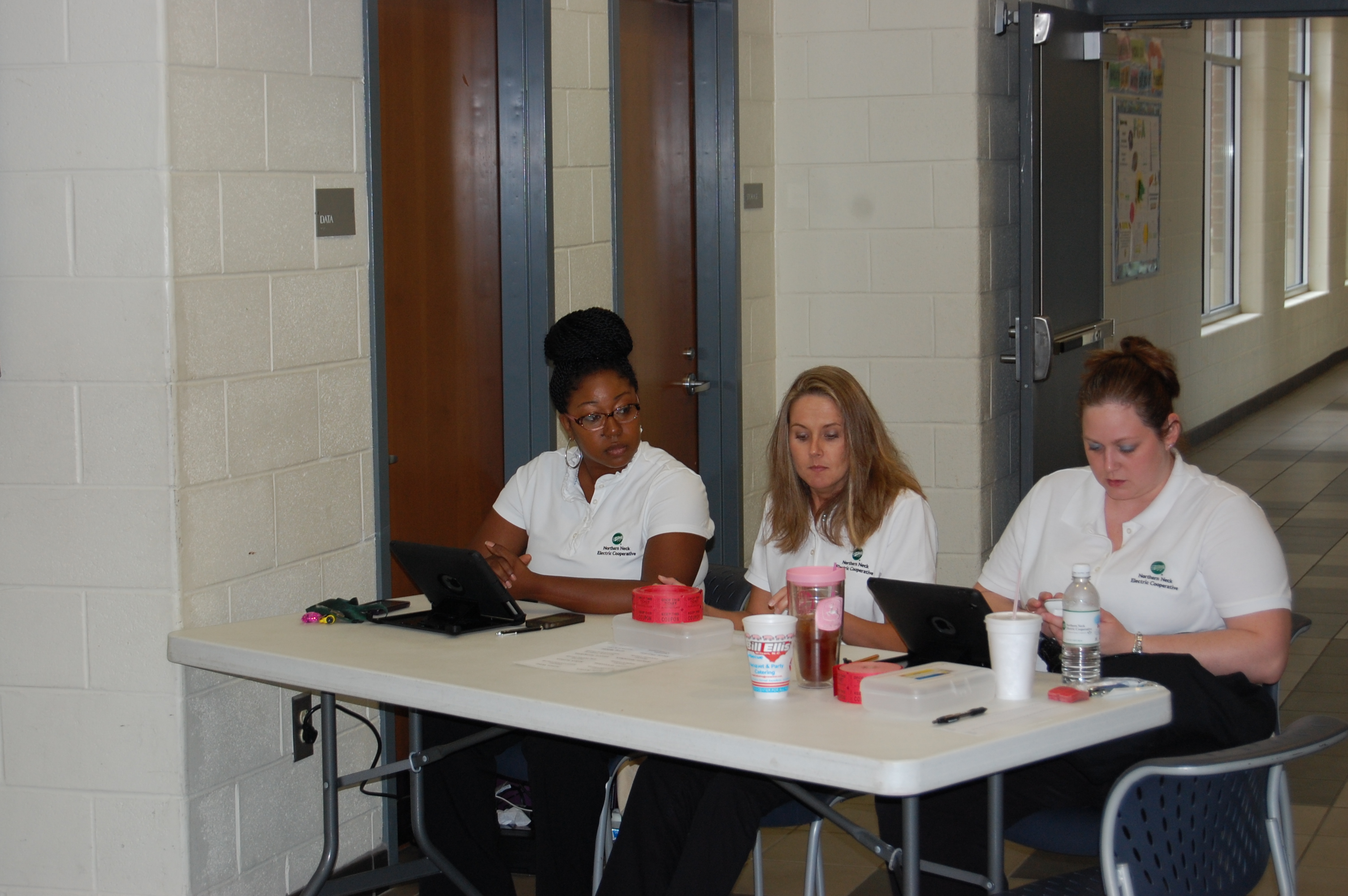 More members bring their bills now than ever before, 72% actually.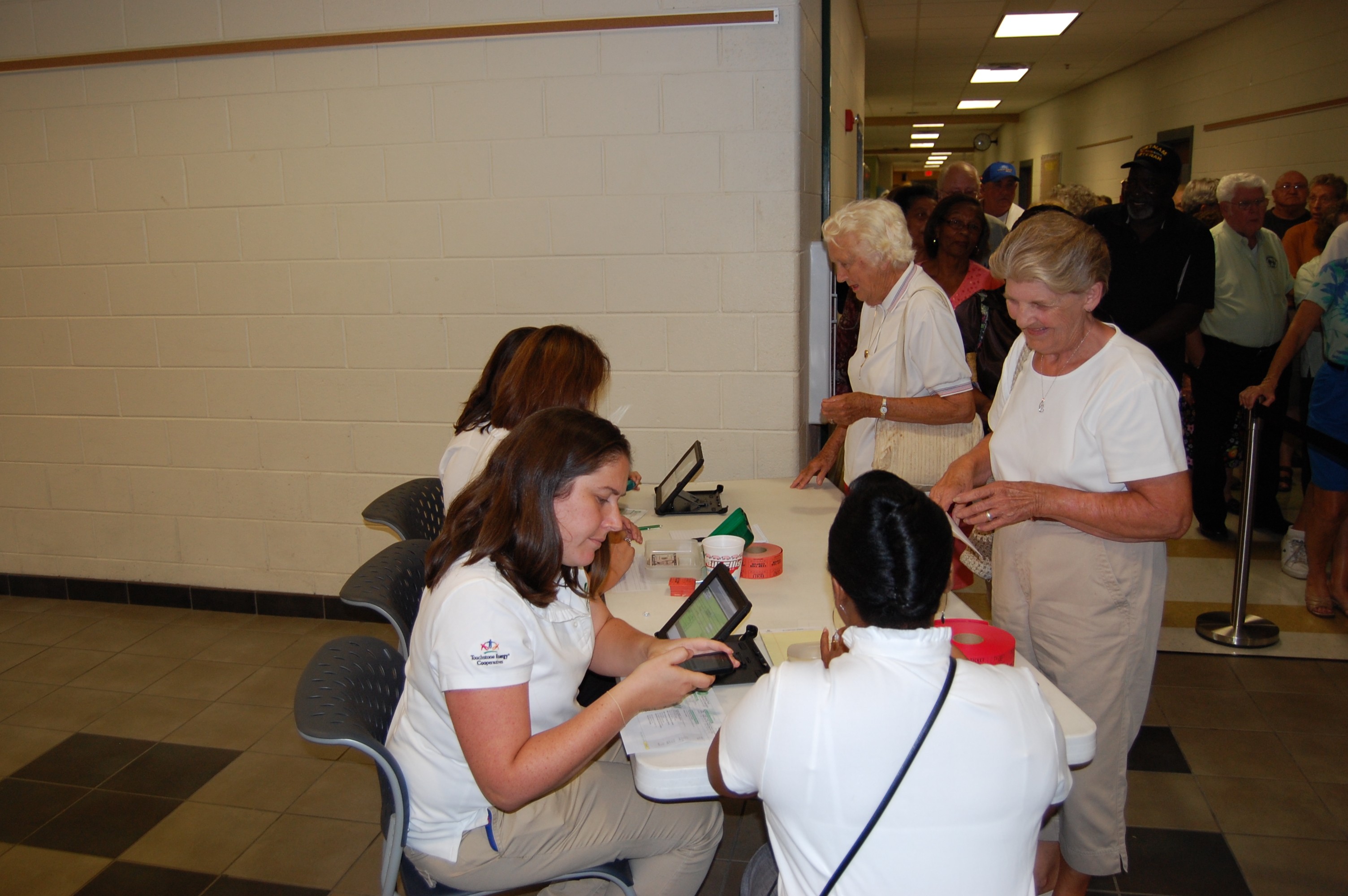 Video's
Here are some videos of the program in action at our August 8, 2013 meeting.
2012
Here is the registration table at our 2012 meeting. We had 2 tables, with 3 people at each table. One person used the iPhone to scan the barcodes on the bill. Another person had the iPad to look up and register any member that did not bring their bill. The last person handed out the meal and prize tickets.

This allowed us to register 4 members at a time.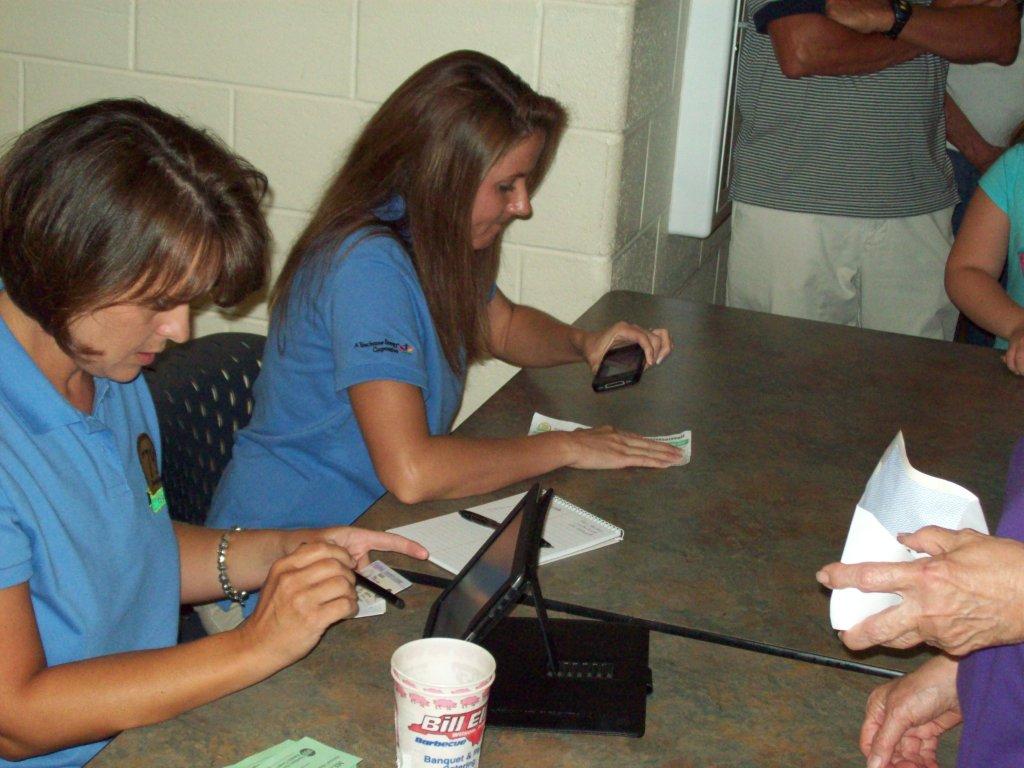 Screens
Here are some of the screens.

Main Menu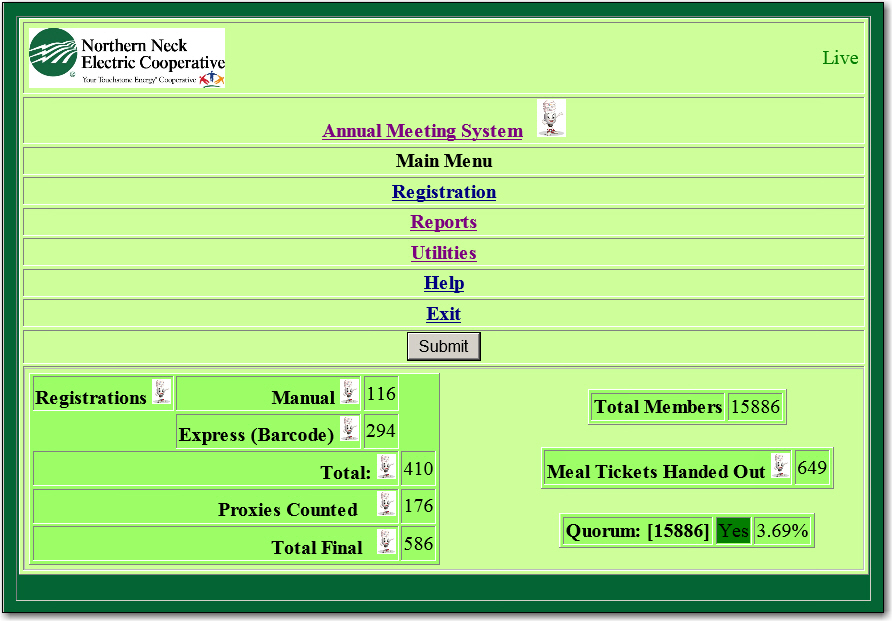 Registration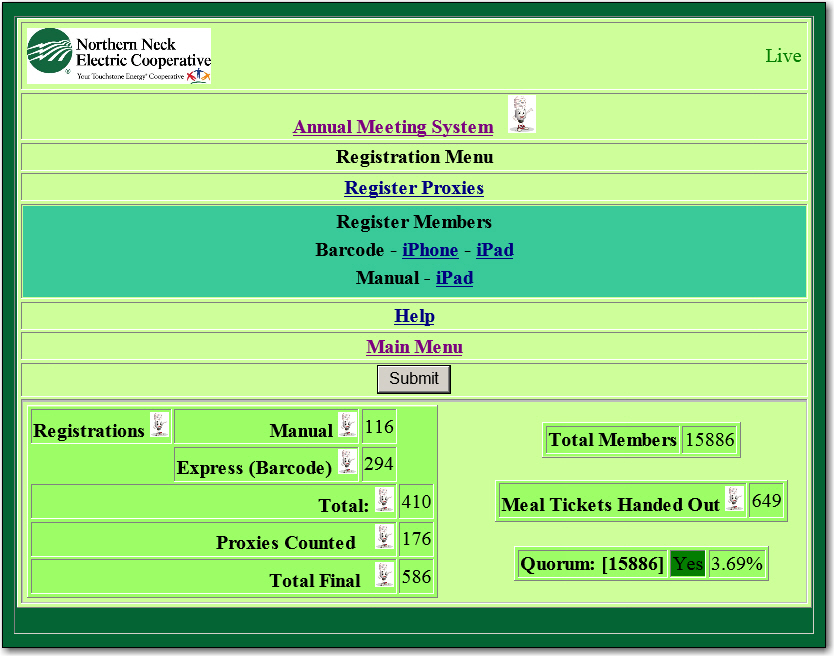 Registration-Proxies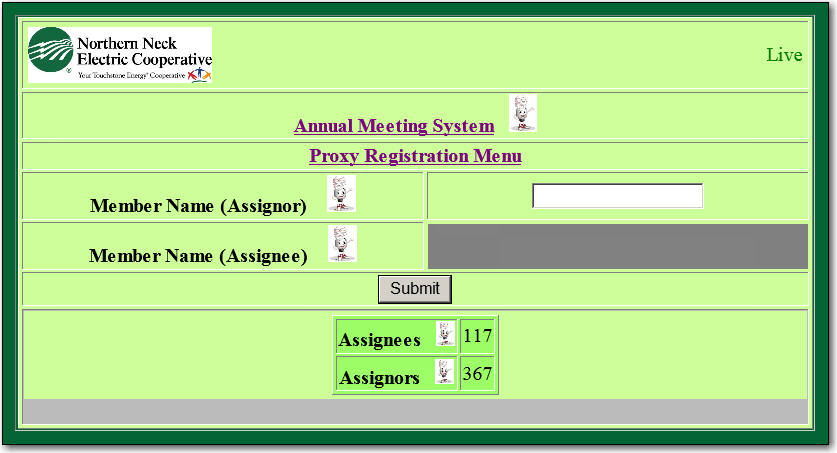 Registration-Barcode-iPhone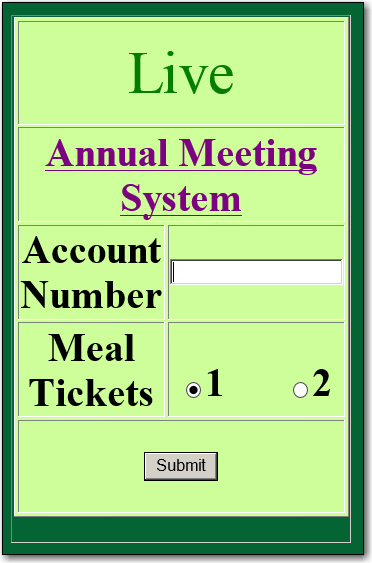 Registration-Barcode-iPad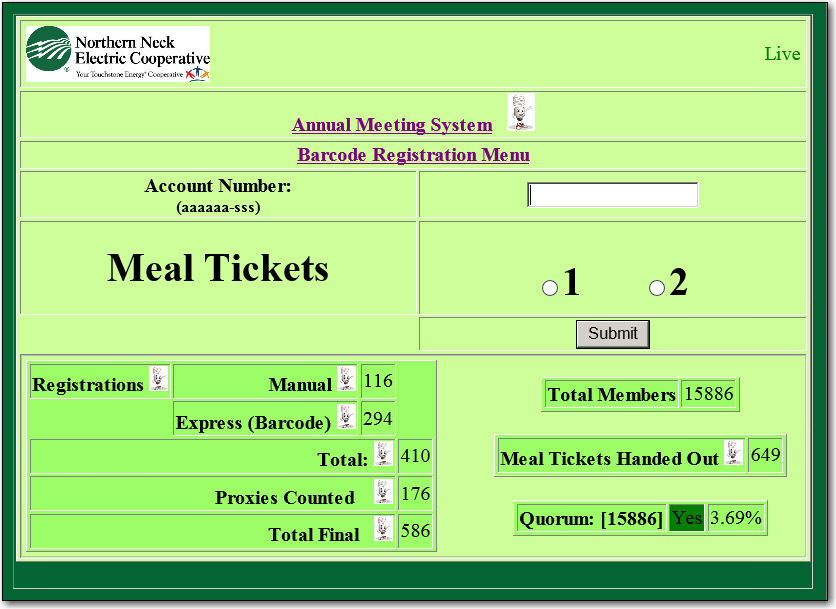 Registration-Manual-iPad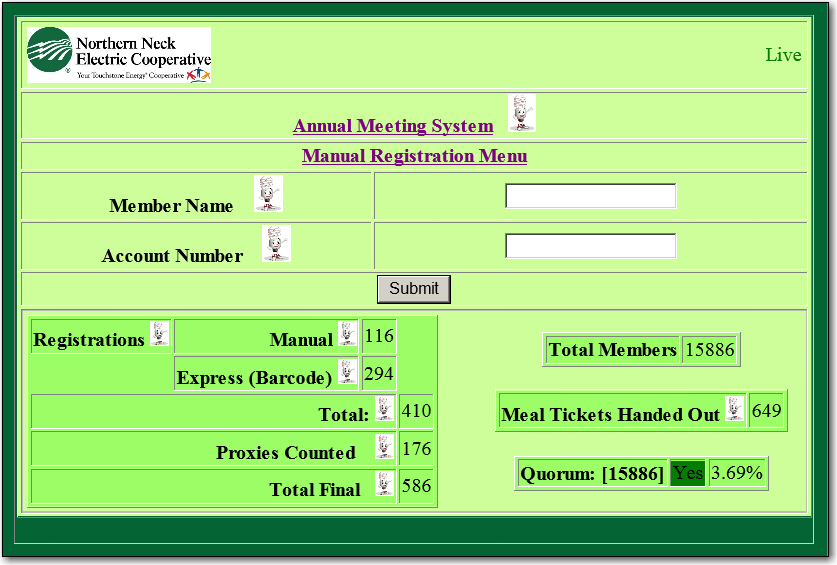 Reports Menu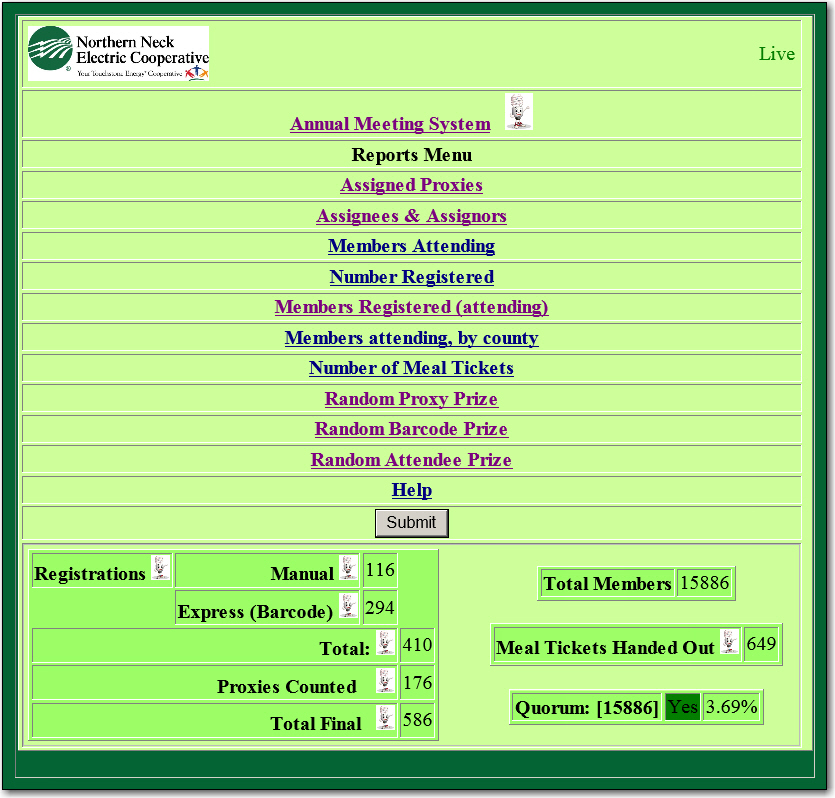 Utility Menu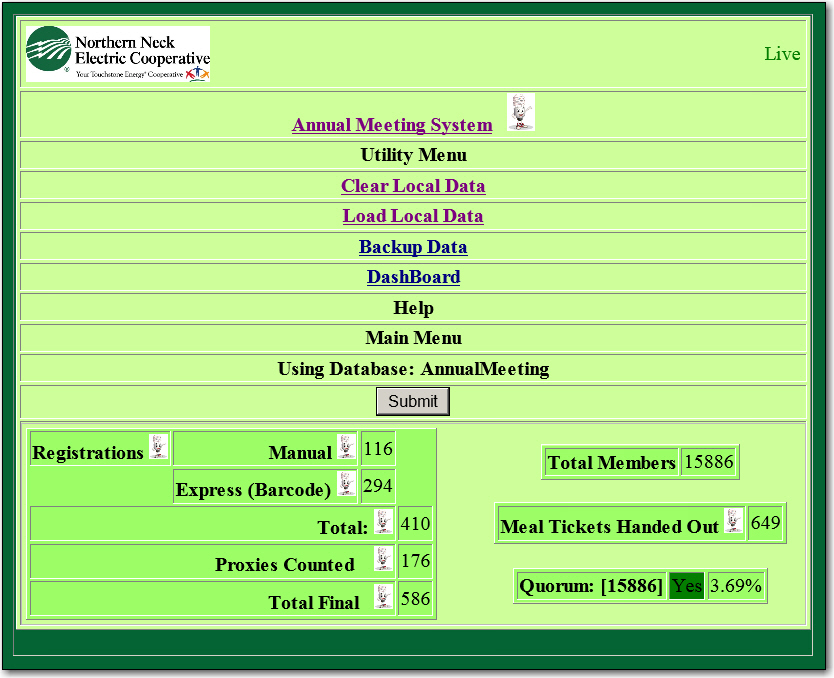 Hardware
Here is the laptop we used as the server, and the wireless access point.