CIS Data Dumper
Background
In going thru oour CIS conversion, I knew we would be sending files many times throughtout the process. The first time I did it manually thru Microsoft Access. That was a cumbersome process and I wanted something more "clicky."
Solution
This program was written to make it easier to do routine data dumps from our current CIS system, Daffron, into .".csv" formatted files. The drop-down list will list the current supported libraries:
APLIB400
ARLIB400
BLLIB400
CCLIB400
CULIBNNE
GLLIB400
IVLIB400
PRLIB400
UMLIB400
WOLIB400
Requirements
This program, at NNEC, is run on a virtual server (Of course), running Microsoft Windows Server 2003, standard edition, Service Pack 2, but it could be run on any windows box, as long as the following is available:
ODBC Connections (System DSN)

I used the IBM Coroporation "Client Access ODBC Driver (32-bit) , Version 11.00.05.00. I presume any of the Client Access drivers would work.

APLIB400
ARLIB400
BLLIB400
CCLIB400
CULIBNNE
GLLIB400
IVLIB400
PRLIB400
TRLIB400
UMLIB400
WOLIB400

Files

The program has been broken out into multiple files, in hopes to make it more easily distributed.

CISDataDumper.asp - the program file.
Functions_Daffron.asp - Basic functions, like open and closing the database connections.
Constants_Daffron.asp - Username, password.

Writable Directory

The directory the program is run in, needs the user IUSR_servername> to have full access, in order to be able to create the ".csv" files.
User Interface
Here is a screen shot ff the user interface. It is really very simple.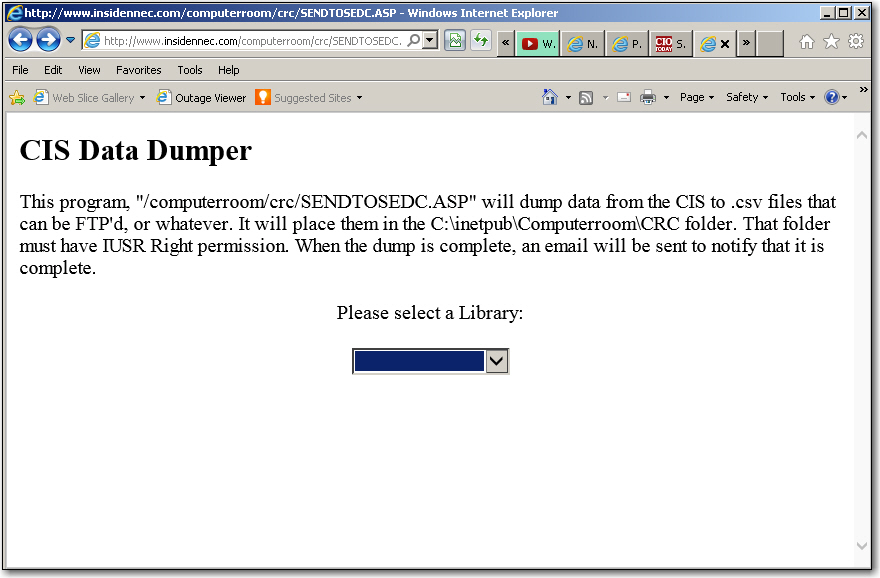 This is a sample screen after the program finishes.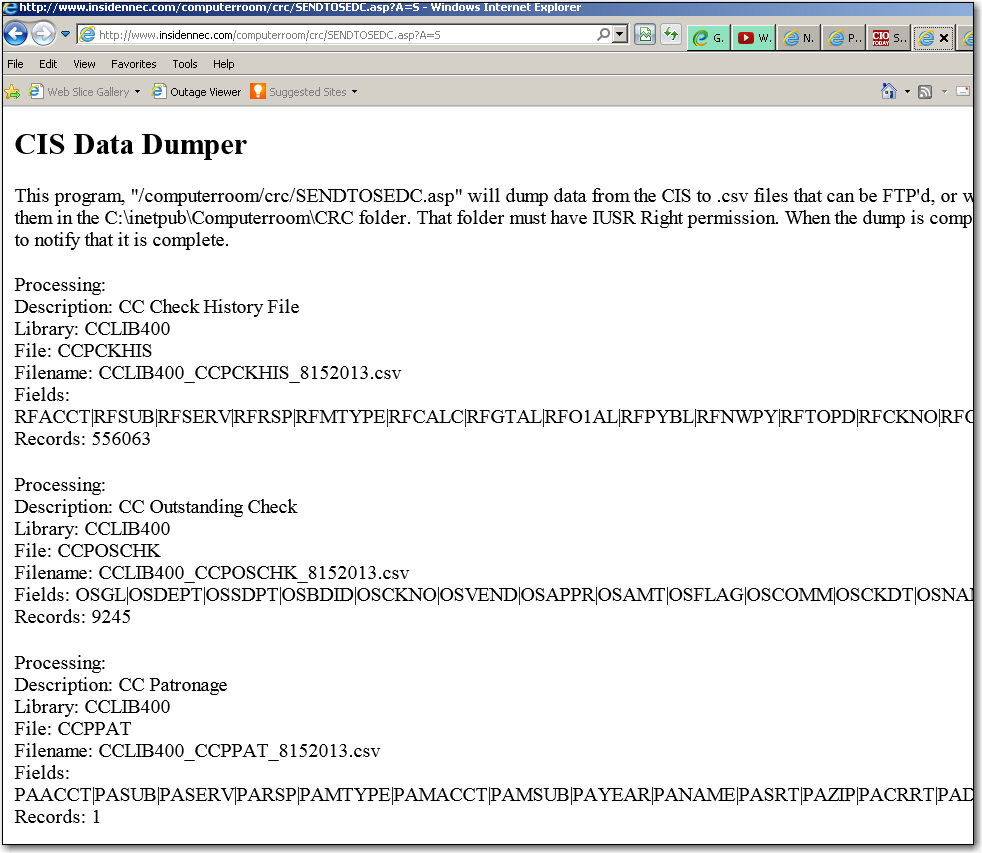 An email is sent after the program completes.